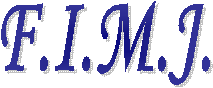 The International Federation of Music Journalists (F.I.M.J.) is an international association group of writers,
editors, photographers, broadcasters, freelances, web contributors, radio speakers, TV presenters
and media professionals who treat any aspect of music on any media.
The F.I.M.J. has more than 2.800 members in 60 world countries.
Publishes the Directory of Music Journalists.
Courses:

Master in Giornalismo Musicale

Master in Music Journalism / Master in Music Business